From the desk of Karen Lombardo, Owner Put Another Way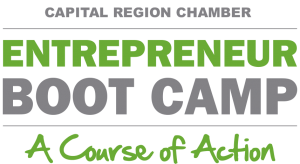 Share your business intellectual wealth.
One of the most rewarding things a business owner can do is to share the knowledge they have gained with new business owners. The Capital Region Chamber conducts an annual Entrepreneur Boot Camp. The Entrepreneur Boot Camp is an award-winning 60-hour intensive training program that guides would-be entrepreneurs and existing businesses through the step-by-step process of starting, operating, and managing a business. The program is held two nights per week over the course of 12 weeks.
Each session features business experts addressing topics critical to the growth of successful enterprises including accounting, legal, market research, real estate, taxes, insurance, payroll, cash flow, marketing, social media and more. I was fortunate to be asked to speak with this group of excited entrepreneurs about marketing, websites, and content. It was a blast!
The experience reminded me of starting my own business and the people who helped me along with the way. Experts in their field and willing to share their business intellectual wealth with a newbie like me.
So, here are 5 things you can do to help our community's would-be entrepreneurs:
Volunteer. Offer up your expertise in a setting like the Entrepreneur Boot Camp. You know so much more than you think you do, and the beginner business owner is very much in need of that knowledge.
Be present. If you say, 'call me,' then be available when they do reach out. They know you are busy and believe me, they are so flexible and hungry for your help and knowledge.
Be mindful. They are starting out, and their finances and experiences are both in their infancy. Look for options for them that are free or at a low cost. For example, email marketing tools, website hosting, and time management tools.
Don't be scary! Sharing horror stories is different than sharing 'be aware' stories. Share your fall downs and pick backups. There is value there!
Encourage and empathize. You see them driving at 100 mph towards a brick wall, but you can stop them you know? Tell them you have been there and how you managed it. The decision is theirs, of course, but a little story sharing cannot hurt.
The Chamber along with the WBC 2020 Adopted Nonprofit http://www.thefoodpantries.org/ offers a wide range of volunteer opportunities.
To learn more, about the Entrepreneur Boot Camp e-mail Laura Mann or call 518.431.1430 to learn more.