From the desk of Hannah Stenzel of Godfrey Financial Associates, Inc.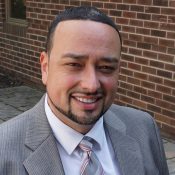 This past week, I had the pleasure of meeting Jason Benitez and interviewing him about his dreams and goals for his position as Vice President of Talent and Inclusion of the Capital Region Chamber.
Benitez is now the second person to hold this title, succeeding Angela Dixon this past July. This position was created as part of a strategic overhaul that the Capital Region Chamber began five years ago in an effort to better serve the evolving needs of our communities.
Benitez is inspired by the opportunity for his position as being a hub of connection and empowerment for businesses throughout our region.
Connecting Local Business with Talent
Benitez likens his role in developing talent and inclusion to a community-wide human resources department, working with businesses and community members on several different fronts. "It's very much a multi-pronged approach," he explained.
The talent aspect of his role involves guiding businesses to tap into the wealth of skills and knowledge that our local communities hold. "It's doing what you can to make sure that the needs of the business community are being met; especially in ensuring that there is a pipeline [of a workforce] that is prepared and ready to meet the needs of the business community," he explained.
The inclusion aspect of his role makes sure that our educational institutions, businesses, not-for-profits, and community-based organizations are working with underrepresented populations, and fostering greater equity throughout their procedures. One of the most important questions he asks is, "Are we really taking advantage of a full and wide cross-section of our population?"
For example, Benitez noted the underrepresentation of women and people of color in STEM (Science, Technology, Engineering, Math) fields. "We look at the end dilemma and work backward. Why are fewer women considering this? How can we produce more women with STEM skills that businesses are asking for?"
He highlighted the Chamber's P-TECH partnership with Capital Region BOCES and two local school districts that empower high school students to complete a significant amount of a STEM associate's degree while still in high school. Then, colleagues at the Chamber work to get underrepresented groups interested and prepared to take on these STEM roles.
Removing barriers to access education is crucial. "We have to make sure that the institutions that are providing these skills are engaging underrepresented groups in this pipeline process," he stated.
Including underserved and underrepresented communities in the workforce is a win-win: companies with a more diverse workforce are more likely to achieve above-average profits, and by supporting our vulnerable populations, our community becomes stronger as a whole.
What Makes Diversity and Inclusion Work?
Diversity and inclusion are two distinct and integral parts of his role. What's the difference, and why does it matter? There's a popular quote by Verna Myers, the VP of Inclusion Strategy at Netflix, which states: "Diversity is being invited to the party. Inclusion is being asked to dance."
What this means is that while the diverse representation of populations is important, inclusion speaks to everyone's ability to be involved in a community. In order to work, inclusionary policies must be part of a business's (and a community's) entire system and culture, not just a token gesture.
Benitez elaborates, "Diversity and inclusion have to go hand in hand; it can't just be a box-checking. It has to be considering "What is [an employee's] experience like once they get there?" That's the climate, the inclusion piece. That's what speaks to tenure and longevity, how inclusive the workplace actually is."
Our regional workforce is experiencing a wave of change. Benitez asks, how are businesses and organizations really preparing for this wave? "When I say preparing, I mean are they examining their hiring practices, their promotion practices, the climate of their day-to-day workplace…and asking, are those things presenting an opportunity or an obstacle to certain folks?"
His History in Education
Benitez worked for most of his career in higher education, beginning in the early 1990s when he came to Albany from his hometown of Brooklyn to study at SUNY Albany as an EOP student. He graduated and stayed at SUNY Albany where he worked at residential life, running dorms and counseling students, and also meeting his wife.
Benitez continued his legacy by becoming the Director of Multicultural Affairs and EOP Coordinator at Schenectady County Community College in 2009, and then as Associate Dean of Diversity and Inclusion at Union college from 2011 to 2019. At Union College, Benitez spearheaded programming and diversity work, advised a wide array of student clubs and organizations, and developed numerous campaigns that still continue; such as the Social Justice Retreat and Pride Walk. It was at Union College that he developed a working relationship with Marna Redding, which led to his being tapped for his new role at the Chamber.
His extensive experience working in higher education imbues him with a valuable and unique skillset; the ability to talk to different communities, to engage, to build diversity and inclusion related initiatives. It's also easy to see the passion he has for identifying and cultivating the immense potential of the people and organizations he works with.
"I really felt in many ways that I was able to work with students in the chapter right before they were going on to do some really great things, and I like to think that, for at least some of them, that I had an impact on them through our years of interactions and programs…that's what's inspiring, is being able to see them in their first year, and witnessing and contributing to their growth. It's very rewarding and powerful."
The Talent and Inclusion Summit
That same passion he has for collaborating with students as they work towards doing great things, Benitez brings to local businesses as they develop and evolve.
One of the first steps in expanding this offering was the inaugural Talent and Inclusion summit, which was this past September 19th.
"We had 150 attendees, with keynote speakers and break-out panels focusing on underserved communities, such as veterans, folks with disabilities, and folks with an incarceration record," Benitez explained.
Benitez looks forward to making this an annual event and expanding other Chamber offerings to carry forward our region's economic opportunity.
The Future of the Chamber, and Our Region
The latest development in the expansion of the Chamber includes merging with the Southern Saratoga Chamber of Commerce. This now allows the Chamber to effectively align and engage a larger area of the capital district, which will serve everyone.
Benitez sees the strategic implications of this merger. "We're really trying to send a strong message of regional unity; that it's great for these cities to have their unique identities, but it works to our best interest as a region…that we can still operate independently, but that we should think and strategize as a region."
Inclusion and the Women's Business Council
Benitez sees the natural alignment of core values between his role and the Women's Business Council, and he is excited for helping women to achieve greater equity in the workforce.
I showed him a WBC Voice entry by Karen Lombardo, citing an article showing that 49% of all new businesses started in the United States were run by women and that the majority of those women were African American. Benitez commented on how women-owned businesses tend to grow faster and present a greater opportunity for change. "Speculating as to why women-owned businesses tend to grow faster, is because…they are going to operate in a way that's more progressive, more open to opportunity, fairer. And maybe those elements are helping those businesses to flourish because people are flocking to them."
Benitez has experienced how empowering each other leads to increased opportunity and hope for everyone, and he takes that forward as a personal mission. "I used to say to my students that your education creates a light, and you have a duty to not hide that light. You have to use it to illuminate the path for those that are coming up behind you."